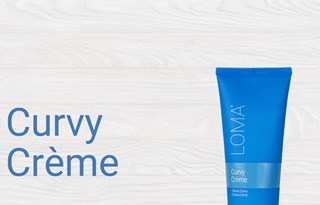 $22.00
$0.00
Loma Curvy Crème 8 oz.
Medium flexible hold.
For all hair types.
Activates curls and waves.
Works great on non-curly hair for a firmer styling crème!
Moisturizing rich sea complex.
Color & Keratin Protection.
Pear and Cranberry Aromatherapy.
Made in the USA.
To Use: Apply desired amount to clean, damp hair from roots to ends to define curves and Curls. Apply small amount to dry hair for a separated or messy look.
Aloe Vera Gel –

 

the ultimate healing plant most effective on skin and hair.
Acai Oil –

 

Rebuilds the hair with pure anti-oxidants.
Creatine –

 

35% more effective than any protein or keratin on the market at rebuilding the internal tensile strength of the hair especially color, foiled and bleached hair types. You can never overproteinize the hair when using Loma.
Kelp –

 

Activates and enhances natural curl.