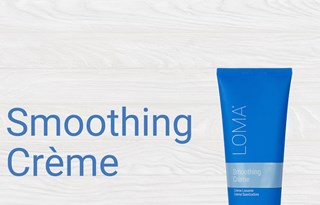 $22.00
$0.00
Loma Smoothing Crème 8 oz.
Provides maximum thermal protection.
Light holding, high shine.
For up to 3 days smoother results.
Pear Aromatherapy.
Made in the USA.
To Use:
Apply desired amount on clean, damp hair, blow dry and follow with a smoothing iron. Also great on the skin.
Aloe Vera Gel –

 

The ultimate healing plant most effective on skin and hair.
Jojoba Oil –

 

The most effective instant moisturizer to the hair. Rich in Vitamin E and B complex to protect the hair and skin from harsh environmental damage.
Avocado Oil –

 

Quickly quenches dry and thirsty hair. Rich in Vitamin A, D, E and B-6 and natural Amino Acids to add strength to the hair.
Castor Oil –

 

Excellent conditioning effects on the hair and scalp. Rich in natural moisturizers and nutrients for healthier hair.
Creatine –

 

35% more effective than any protein or keratin on the market at rebuilding the internal tensile strength of the hair especially color, foiled and bleached hair types. You can never overproteinize the hair when using Loma.
Lavender –

 

Soothes the hair and skin for healthy results.
Fennel Seed –

 

Extends all hair color vibrancy by killing excess peroxide and ammonia residue left over after color services.